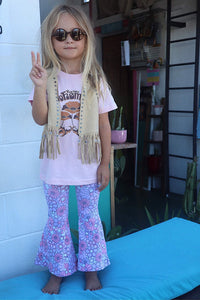 "They are our freedom seekers, our wanderlust dreamers and our fearless rule breakers. 
Always planning the next adventure, on the earth but forever head above the clouds.
They are the roamers of the wild, the tamers of the stars and the keepers of the vibe. 
Forever they are our bohemians of time..."
We couldn't be prouder to offer to you our nostalgic soaked "New Bohemian" tee. 


An ode to the wild and free spirits of decades past and present.
This is a piece that resonates with the very essence of the Suede Daze heart and soul, all that we love, are inspired by and believe in.
A tee made to be styled back with all those bohemian vibes in mind but just as perfectly worn with your fave denim staples.  
This limited edition tee in the most gorgeous of tones will ensure this
tee remains on high rotation...
it really is just as pretty as it is wearable. 
All tees run true to size. 

100% cotton
This tee is the same colour & fit
as our pink Good Vibes tee
Pre-Washed to minimise shrinkage 
(please see photos for the size chart)

Care Instructions:
Cold Wash & line dry
Do not iron on the screen print